Hello, all.
This is Brandon Cobb of Super Fighter Team, here today with news of our two newest free games [!], for DOS and Windows...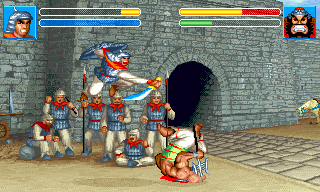 Sango Fighter 2
lets you choose from 16 different generals in China's Eastern Han Dynasty, fighting it out to see who will control the entire country. Originally developed by Panda Entertainment in Taiwan, it is now available in English for the first time, with new features and enhancements.
Try it out @
www.sangofighter2.com
Super Fighter Special Edition
is a new version of our company's namesake, built from the ground up in honor of the game's 20th anniversary. It features a new soundtrack, new attacks for each character, nearly 100 new frames of character animation, and more.
Try it out @
www.superfighter.net
Thanks for your interest. Have a nice day.