XPmode is kinda flawed to play games in.
If you're all for virtual go for VPC2007.
BUT:
Death gate is a
dos
game.
Runs fine in dosbox 0.74.
You will be much better with dosbox, believe me.
There is a Win7 tuto for dosbox in tutorial section.
You should end up with:
x:\.....\oldgames\dgate\
your inputs in dosbox to be able to run the game:
mount d x:\........\oldgames\
cd dgate
dgate
Yes, mount as D , it's not a typo.
Game is ready to run in dosbox, no setup nor install needed.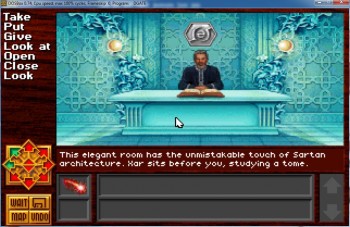 [Edit]
Whoops ... overlooked this,sorry :
Now, if you have the original CD:
Best create a CD image
(modern CDdrives aren't really suited to run those older games, too much spinup/downs/heat...etcetera... blah blah....)
Use the normal mount ( C in stead of D)
Mount the CD image as D in dosbox (use
imgmount
)
Install game normally from D on C in dosbox.